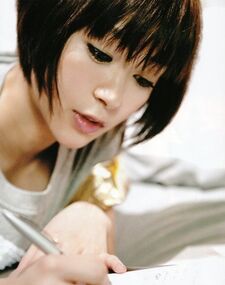 Utada Hikaru (宇多田 ヒカル) is one of Japan's biggest J-Pop artists of all time. She started singing in 1993 with her first single Star which was a U.S release. Her first Japanese single was Automatic/Time Will Tell which was released in 1998, and her first album First Love was released in 1999.
Name: Utada Hikaru (宇多田 ヒカル)
Nickname: Hikki
Birthday: January 19, 1983
Birthplace: New York
Blood Type: A
Height: 158cm (5'2")
Weight: 45kg
Favorite Color: Blue
Favorite Animal: Cat
Favorite Word: Kuso (糞, くそ; Shit in Japanese)
Favorite Music: Aaliyah, At the Drive-in, Bela Bartok, Björk, Blink182, Blue Man Group, Bon Jovi, Brandy, Cocteau Twins, Craig David, Dr. Dre, Edith Piaf, Elvis Presley, Enigma, Erykah Badu, Freddie Mercury, Garbage, GLAY, Guns N'Roses, Guru, Incubus, Janet Jackson, Jeff Buckley, Jimi Hendrix, Joe, Kate Bush, Lauryn Hill, Led Zeppelin, Madonna, Mary J. Blige, Maxwell, Metallica, Minnie Riperton, Miles Davis, Missy Elliot, Mozart, Nine Inch Nails, No Doubt, Ozaki Yutaka, Pearl Jam, Prince, Queen, Radiohead, Sada Masashi, Slash (Guns 'n' Roses), Sting, The Beatles, The Cure, The Eagles, The Police, TLC, Trent Reznor, U2, Velvet Revolver, Stevie Wonder, Leah Dizon, Monica,2pac,Babyface, Hibari Misora and Michael Jackson.
Discography
Edit