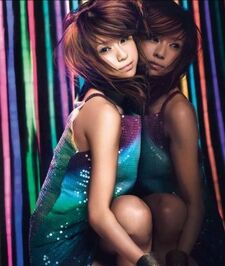 Suzuki Ami is a Japanese J-Pop singer who first started in 1998 with her first single love the island.
Name: Suzuki Ami (鈴木亜美)
Nickname: Ami-go (あみ~ゴ)
Birthday: February 9, 1982
Birthplace: Kanagawa, Japan
Blood Type: A
Height: 158cm
Weight: 44kg
Measurements: 80
Hips: 82
Biography
Edit
Ami has released lots of singles and albums, and has even done some modeling in magazines and much more. Ami has been signed onto 3 labels since she started, she has been signed onto Sony Music Japan from 1998 to 2001, Amity for 2004, and Avex Trax from 2005 to present.
Discography
Edit
Ad blocker interference detected!
Wikia is a free-to-use site that makes money from advertising. We have a modified experience for viewers using ad blockers

Wikia is not accessible if you've made further modifications. Remove the custom ad blocker rule(s) and the page will load as expected.