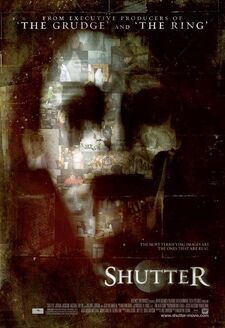 Name: Shutter
Director: Masayuki Ochiai
Writer: Luke Dawson
Producer: Takashige Ichise, Roy Lee, and Doug Davison
Release Date: March 21, 2008
Run Time: 85 min.
Shutter is a remake of the 2004 version with the same title. Ben and Jane are driving down a road lost and dont know where they are, out of nowhere a girl shows up and they hit her because of not having time to drive around her. Jane runs out and starts looking all over for her, the girl was gone but she was sure of it that they hit her and she is dead. Ben tells her someone probably picked her up and she is fine now and there was no death. A couple of days later they start to see problems with there pictures how they turned out. Jane goes to see a Spirit photo magazine editor and Jane finds out that this is probably happening because of revenge, but Jane had never met the girl in her life. Finding out later that Ben has met her, and she is getting back at Ben for what happened a long time ago.
Ad blocker interference detected!
Wikia is a free-to-use site that makes money from advertising. We have a modified experience for viewers using ad blockers

Wikia is not accessible if you've made further modifications. Remove the custom ad blocker rule(s) and the page will load as expected.