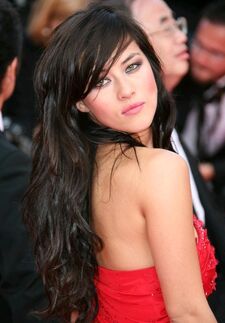 Name: Mylène Jampanoï
Birthday: July 12, 1980
Birthplace: Aix-en-Provence, France
Ethnicity: 50% French 50% Chinese
Biography
Edit
Mylene is a French / Chinese actress born in France to her Chinese father and her French mother.
Filmography
Edit
[2002] Sous le soleil
[2004] Les Rivières pourpres 2 de Olivier Dahan
[2004] 36 quai des Orfèvres de Olivier Marchal
[2005] Cavalcade de Steve Suissa
[2005] Le Détective: Contre-enquête
[2006] The Chinese Botanist's Daughters
[2006] Valley of Flowers (La vallée des fleurs)by Nalin Pan
[2006] Pleure en silence de John Gabriel Biggs
[2008] Choisir d'aimer de Rachid Hami
[2008] Martyrs by Pascal Laugier
[2008] Kung Fu Panda de Mark Osborne et John Stevenson
[2010] Serge Gainsbourg, vie héroïque
Ad blocker interference detected!
Wikia is a free-to-use site that makes money from advertising. We have a modified experience for viewers using ad blockers

Wikia is not accessible if you've made further modifications. Remove the custom ad blocker rule(s) and the page will load as expected.