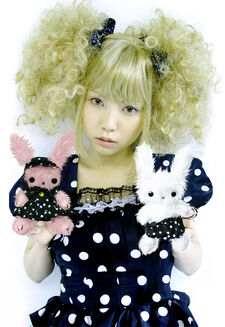 Kana (香奈) is a Japanese singer-songwriter, toy designer, model, illustrator & fashion designer under the label of Ichigo-Sha.
Biography
Edit
Kana grew up and lives in Japan, and held her first concert at the age of 16. Kana has also modeled for French magazines and models for Lolita magazines mostly wearing Gothic Lolita clothing and is known for her ever changing looks. Her latest album is "Tsuki no Usagi" released in 2007, with her last single release, "Anzen Pin", being in 2002. She has also released a music video collection titled, "Kokoro no Mori" in 2002.
Discography
Edit
Mini-albums
Edit
Ad blocker interference detected!
Wikia is a free-to-use site that makes money from advertising. We have a modified experience for viewers using ad blockers

Wikia is not accessible if you've made further modifications. Remove the custom ad blocker rule(s) and the page will load as expected.