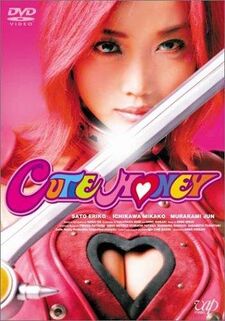 Cutie Honey is a Japanese comedy / action movie featuring Sato Eriko as the main character Cutie Honey.
Movie: Cutie Honey (キューティーハニー)
Director: Hideaki Anno
Writer: Hideaki Anno
Release Date: May 29, 2004
Run Time: 94 min.
A young Japanese girl names Honey Kisaragi is a very powerful girl living in Japan. She works at a small business but also runs around as a superhero named Cutie Honey. After her uncle being kidnapped by Gold Claw and his gang Honey trys to fight to get him back.
Ad blocker interference detected!
Wikia is a free-to-use site that makes money from advertising. We have a modified experience for viewers using ad blockers

Wikia is not accessible if you've made further modifications. Remove the custom ad blocker rule(s) and the page will load as expected.