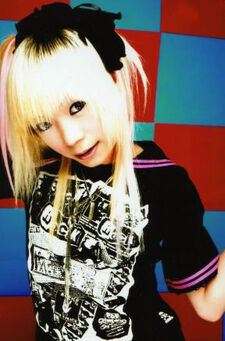 Birth Name: Saitou Kazuhiko
Stage Name: Bou (坊)
Birthday: September 16, 1983
Birthplace:Tokyo, Japan
Blood Type: O
Height: 158cm
Weight: 47cm
Hobbies: Sleeping
Favorite food: Pork and rice, Japanese pasta, gelatin cheesecake
Favorite brand: Paul Smith
Favorite colors: Purple, Black, Gold
Favorite band: LUNA SEA
Favorite perfume: Pink sugar
Smokes: Buoyantly, Pukapuka
Biography
Edit
Bou is a former member of Japanese Visual-kei group Antic Cafe. he left in 2006 because of someone in his family being sick and did not return. Antic Cafe got a new member to replace him, since he was not returning. Bou usually says "nyan nyan" which is suppose to be like a cat, and "datte datte datte" which means but but but.
Ad blocker interference detected!
Wikia is a free-to-use site that makes money from advertising. We have a modified experience for viewers using ad blockers

Wikia is not accessible if you've made further modifications. Remove the custom ad blocker rule(s) and the page will load as expected.