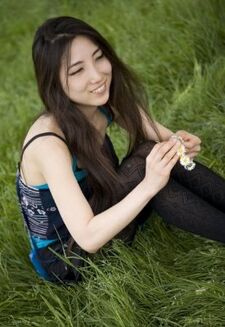 Name: Aiko Horiuchi
Birthday: N/A
Birthplace: Tokyo, Japan
Biography
Edit
Aiko Hourichi is a Japanese actress, who has been living and studying acting and film making in London for the last ten years. She is a native Japanese speaker and is fluent in English. Her acting career began in episodic Television work in such series as Eastenders and Holby city. She has gone on to appear in the Feature Films: Die Another Day,Charlie and the Chocolate Factory and has recently played the Character of Kayako, the lead in the new cult horror movie "The Grudge 3".
Aiko is a Fine Artist qualified with a Masters Degree in Philosophy and European Art History and Bachelor Degree in Japanese Art History. Aiko has a Curators Certificate and a Junior High School and High School Teachers licences. She is a prolific writer and painter.
Filmography
Edit
[09.22.2006] Rabbit Fever
[05.12.2009] The Grudge 3
Ad blocker interference detected!
Wikia is a free-to-use site that makes money from advertising. We have a modified experience for viewers using ad blockers

Wikia is not accessible if you've made further modifications. Remove the custom ad blocker rule(s) and the page will load as expected.