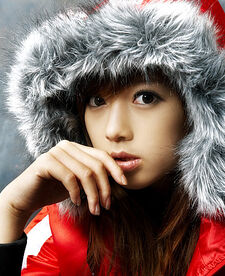 Name: Ayumi Ito (伊藤亜由美)
Stage Names: Ahyoomee (이 아유미), and Ayumi Lee (伊藤あゆみ)
Birthday: August 25, 1984
Birthplace: Tottori, Japan
Blood Type: A
Height: 166cm
Weight: 47kg
Hobbies: Music and shopping
Favorite Music: Utada Hikaru, Ayumi Hamasaki, and USHER
Biography
Edit
Ahyoomee is a former member of the Korean group Sugar. After Sugar Ahyoomee started making her old music and modeling. She is sometimes called Ulzzang but she is not an official Ulzzang model.
Discography
Edit
Ad blocker interference detected!
Wikia is a free-to-use site that makes money from advertising. We have a modified experience for viewers using ad blockers

Wikia is not accessible if you've made further modifications. Remove the custom ad blocker rule(s) and the page will load as expected.